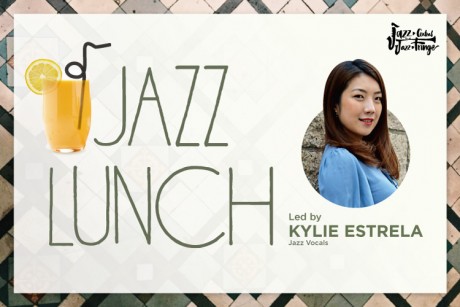 Jazz
Jazz Lunch: Kylie Estrela & Jazzicians
LiveMusic - Jazz
Jazz-Go-Central, Jazz-Go-Fringe

Wed 17-01-2018 1:00 PM - 1 h
Wed 14-02-2018 1:00 PM - 1 h
Wed 21-03-2018 1:00 PM - 1 h
Wed 18-04-2018 1:00 PM - 1 h

Fringe Dairy

Free admission with registration
Synopsis
Registration of 18 April Jazz Lunch:
Free admission with limited quota, please register in advance.
Click here to register.
If you work in Central, escape the hustle and bustle, come and immerse yourself in a lunchtime concert of live jazz music. As Miles Davis once said, "Jazz washes away the dust of everyday life."
Presented by the Fringe Club as one of the programmes of "Jazz-Go-Central, Jazz-Go-Fringe" project, Jazz Lunch showcases an impressive jazz combo in the classy setting of the Fringe Dairy. The combo includes professional jazz musicians and young emerging talents who all appreciate the opportunity to gain exposure, showcase their musicianship and improve their skills.
From January to April, Kylie Estrela will be sharing their jazz music stories together with her jazzicians.
P.S. Jazzicians= Jazz + Musicians
Wed 18 April 2018
4th Episode: When Juejian Juejian meets C-Pop (Have A Bite version)
Juejian has a double meaning of Persistence and Jazzicians (in Mandarin pronunciation). It has a connotation of jazzicians who persist in playing jazz even though this genre is small compared to mainstream pop music.
Since 2015, Kylie Estrela has promoted the concept of jazzified Cantopop, and has presented it in concerts by La Petite Jazzy Jam, with arranger Bernard Hui. The concept is definitely not brand new, and they're certainly not the only people to re-arrange it, but there's no denying that Cantopop plays a key role in Hong Kongers' musical upbringing. So Kylie tries to embrace jazz and Cantopop, to discover what the combination might look and taste and sound like.
The culture/language/phraseology of jazz and Cantopop are totally different, which makes jazzifying and vocalising difficult. However, the jazzicians have persisted, spending time to choose songs and create jazzified pieces without being in a rush to launch them. The new arrangements could be in the style of Swing or Bossa Nova, Fusion Jazz or Jazz Funk, or maybe even Soul or R&B.
Influenced by the culture of her Taiwanese mom, Kylie has also picked some tunes from Taiwan. And Bernard has selected some pop tunes so that each concert tells its own unique story.
Today's fourth and final Jazz Lunch, led by Kylie Estrela, features Hong Kong jazzicians Kwok Wing Hei (trumpet), Marcus Ho (bass) and Anna Fan (drums).
Click here to register.
Wed 21 March 2018
3rd Episode: Multi-channel Jazzicians
Kylie Estrela is honoured that renowned jazz artist Ted Lo, whom she has known for many years, plus jazzicians Rod Chui and Geoff Luk, will be joining her for a multi-channel performance at this third Jazz Lunch.
Ted, Rod and Geoff are famed for their multi-talented brilliance on various instruments, producing a compelling variety of sounds on a multi-channel mixture of piano, guitar, bass, drums and harmonica. By contrast, Kylie will be using her one-and-only instrument: her jazzy voice.
And as always, Kylie will share her stories about her encounters with these talented jazzicians.
Click here to register.
Wed 14 February 2018
2nd Episode: I have a crush on you?
On Valentine's Day, Kylie will be sharing the story of her studies and her musical journey in the city of romance, Paris. She'll perform Gypsy jazz, originally from France, with some jazzicians she has known for quite a while – finally, they're presenting their debut gig together. In this second concert in the series, Ron Ng (guitar), Sharon Lui (violin) and Steve Mui (bass) will be joining as guest performers.
Ron is a classically trained guitarist. He and Kylie met a couple of years ago, and this is their first gig together.
Sharon is a hard-working emerging violinist who focuses on the Gypsy jazz style. She and Kylie met at several musical events last year, and this is also their first official gig together.
Steve, originally from Japan, has been playing as a bassist in Hong Kong for many years. He and Kylie met almost 10 years ago thanks to Swing dancing events.
Click here to register.
Wed 17 January, 2018
The first "Kylie Estrela & Jazzicians" Jazz Lunch
Featuring vocalist Kylie Estrela, with the renowned jazzician Bernard Hui on keyboards.
How do they know each other then both became parts of the most important jazzicians for the development of La Petite Jazzy Jam?How do they generate and work on the idea of the jazzified Canto-pop which drawn the most attention by the audience? Come and listen to their dialogue through music.
In the first concert, Kwok Wing Hei (trumpet) and Marcus Ho (bass) will be joining as guests performers. Kylie met Kwok Wing Hei when she started singing with big bands in Hong Kong. Apart from meeting Hei almost in all the big bands here in town, he also plays with the renowned canto-pop stars including Sammi Cheng and Chet Lam who invited Kylie as the lead actress in one of the MVs of his composition.
Marcus Ho is the first bassist that Kylie played with when she started to perform in a combo after being in a big band. You can always see Marcus' cool performances in jazz, pop and other music genre with different musicians such as Phil Lam, the awarded singer-song-writer. Kylie and Bernard have performed jazzified version of one of his greatest hits.
Click here to register.
Kylie Estrela, an up-and-coming new jazz voice
Kylie has been told that her gifted voice can penetrate listeners' hearts with her soulful, heartfelt interpretations. Her jazz voice journey has been cultivated by many different jazzicians, from big bands to duos.
Alongside her musical-theatre acting journey, Kylie had her debut jazz singing appearance with the Beijing Big Band in China. She then became the guest vocalist and presenter for SNJO and HKYJO in the Hong Kong Youth Big Band Festival, the Shenzhen Fringe Festival and the Hong Kong Summer Jazz Festival. Kylie was also the featured artist in the Hong Kong Fringe Club's "Spotlight Penang in Hong Kong" event in 2015.
Pop music was a big part of Kylie's upbringing as a city girl in Hong Kong, but the jazz seed was first planted due to the influence of her mom. Further voice study in Paris broadened her vision of the performing arts, and the Lindy Hop has brought her even closer to jazz.
Kylie has performed in many musical-theatre shows in Hong Kong, Taiwan, China, Japan and Malaysia, and you may have heard her singing in TV commercials for SONY Xperia, Panasonic, Genki Sushi and Nestle.
During the "Jazz Lunch" series on the third Wednesday of each month from January to April 2018, Kylie will be sharing her jazz music stories together with her "jazzicians".
http://www.facebook.com/kyliechoy821
Remarks:
You are welcome to bring your own lunch.
Cash bar will be opened during event. We will also serve simple food such as sandwiches, cakes and fruit cups.
Admission will be started 30 minutes before show time.
Please present the printed tickets/ e-tickets for admission at the door.
40 seats plus standing spaces. Seats are first-come-first-served.
"Jazz-Go-Central, Jazz-Go-Fringe" is financially supported by the Arts Capacity Development Funding Scheme of the Government of the Hong Kong Special Administrative Region
The content of these programmes does not reflect the views of the Government of the Hong Kong Special Administrative Region
Hong Kong Fringe Club reserves the right to change the programmes and performers
Enquiries:
Fringe Club (852) 2521 7251
jazz@hkfringeclub.com


See the entire album on Facebook »