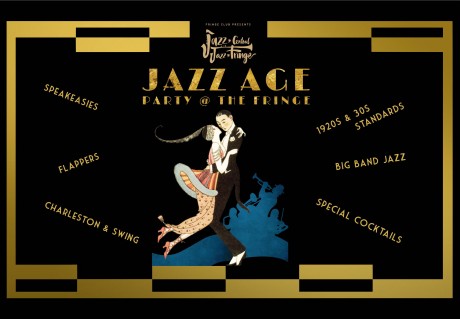 Jazz Party
JAZZ AGE Party @ The Fringe
LiveMusic - Jazz Party
Jazz-Go-Central, Jazz-Go-Fringe

Sat 01-09-2018 8:00 PM - 4 h

Fringe Club

Standard: $150
*Fringe Members: $120
Tickets
Synopsis
The spotlight event of "Jazz-Go-Central, Jazz-Go-Fringe"
JAZZ AGE PARTY
"Tender is the night. The air, a soft light wine. Lace up those dancing shoes. Let's get lost."
Theme: Roaring 20's
Music: Big Band Jazz, 1920s & 30s Standards
Dance: Swing & Charleston
Drinks: 1920s Cocktails
Dress code:
Ladies - Bangles & Beads, Fringes & Fascinators
Gents - Hats (Panama or Fedora) & Dancing Shoes
Featuring:
Saturday Night Jazz Orchestra
The 5422 Collective
Taka Little Big Band
HK Street Brass
and more…
Ticket - Standard: $150 ; *Fringe Members: $120
Remarks:
Cash bar will be opened during event.
Admission will be started 30 minutes before event time.
Please present the printed tickets/ e-tickets for admission at the door.
*Fringe Club membership card MUST be presented at the door.
"Jazz-Go-Central, Jazz-Go-Fringe" is financially supported by the Arts Capacity Development Funding Scheme of the Government of the Hong Kong Special Administrative Region
The content of this programme does not reflect the views of the Government of the Hong Kong Special Administrative Region
Hong Kong Fringe Club reserves the right to change the programme and performers
Enquiries:
Fringe Club (852) 2521 7251
jazz@hkfringeclub.com