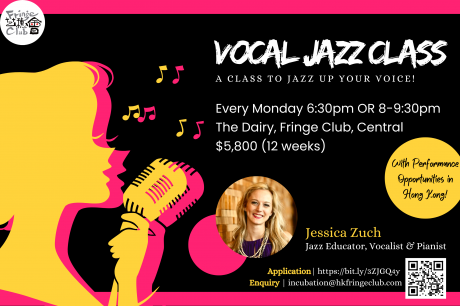 Vocal Jazz Class
Event

Mon 20-02-2023 8:00 PM - 1 h 30 m
Mon 27-02-2023 8:00 PM - 1 h 30 m
Mon 06-03-2023 6:30 PM - 1 h 30 m
Mon 06-03-2023 8:00 PM - 1 h 30 m
Mon 13-03-2023 6:30 PM - 1 h 30 m
Mon 13-03-2023 8:00 PM - 1 h 30 m
Mon 20-03-2023 8:00 PM - 1 h 30 m
Mon 20-03-2023 6:30 PM - 1 h 30 m
Mon 27-03-2023 6:30 PM - 1 h 30 m
Mon 27-03-2023 8:00 PM - 1 h 30 m
Mon 03-04-2023 6:30 PM - 1 h 30 m
Mon 03-04-2023 8:00 PM - 1 h 30 m
Mon 10-04-2023 6:30 PM - 1 h 30 m
Mon 10-04-2023 8:00 PM - 1 h 30 m
Mon 17-04-2023 6:30 PM - 1 h 30 m
Mon 17-04-2023 8:00 PM - 1 h 30 m
Mon 24-04-2023 6:30 PM - 1 h 30 m
Mon 24-04-2023 8:00 PM - 1 h 30 m
Mon 01-05-2023 6:30 PM - 1 h 30 m
Mon 01-05-2023 8:00 PM - 1 h 30 m
Mon 08-05-2023 8:00 PM - 1 h 30 m
Mon 15-05-2023 8:00 PM - 1 h 30 m
Mon 22-05-2023 8:00 PM - 1 h 30 m
Mon 29-05-2023 8:00 PM - 1 h 30 m
Mon 05-06-2023 8:00 PM - 1 h 30 m
Mon 12-06-2023 8:00 PM - 1 h 30 m
Mon 19-06-2023 8:00 PM - 1 h 30 m
Mon 26-06-2023 8:00 PM - 1 h 30 m

Fringe Dairy

$5,800 (12 weeks)
Synopsis
Hong Kong Fringe Club proudly presents you with the long-awaited Vocal Jazz Class for adults! Our faculty - Jessica Zuch will teach vocal jazz techniques, harmony formations, improvisations, and diaphragmatic breathing techniques to expand their vocal range. Performance opportunities in Hong Kong will be included.
Date and Time
Every Monday 6:30pm-8pm / 8-9:30pm
Venue
The Dairy, Fringe Club
Faculty
Jessica Zuch (Jazz Pianist and Songwriter)
Registration
Enquiry
Faculty's Biography
Canadian-born Jazz pianist and songwriter, Jessica holds a Master's degree in Jazz Composition and Arranging from the University of Nevada, Las Vegas, USA. She obtained her Bachelor's degree in Jazz Music Performance from Capilano University in North Vancouver, British Columbia, Canada where she later served as a faculty member and program coordinator. She is well-known for her innovative, upbeat teaching style and customized lesson plans.
Jessica teaches piano, vocal, composition and improvisation in Jazz & Pop for all levels, both private and group class.