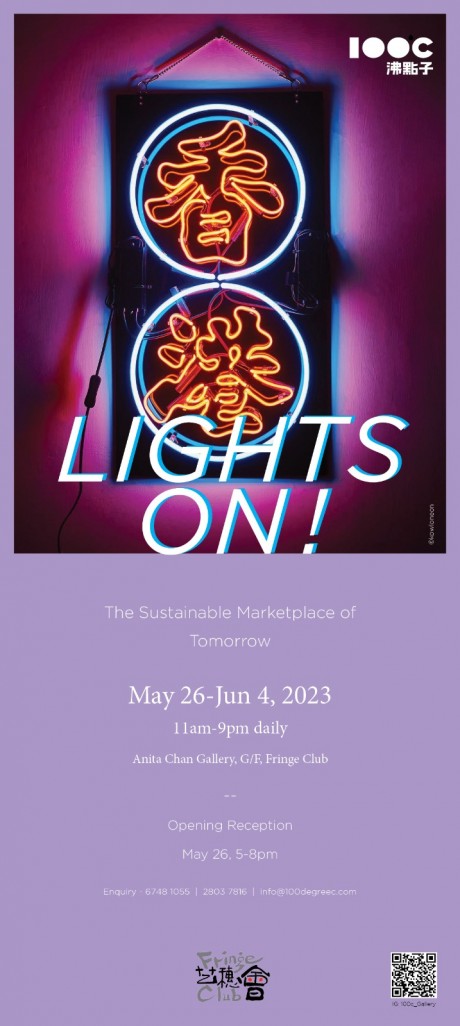 Exhibition
Lights On!
Exhibition - Exhibition
100°C 沸點子

Fri 26-05-2023 to Sun 04-06-2023

Anita Chan Lai-ling Gallery

Free entry

In Cantonese and English
Synopsis
The once ubiquitous neon signs of Hong Kong are now few and far between, but they have ingrained in our memory. Curated by 100°C, Lights On! is a pop-up marketplace held at the Fringe Club from May 26 to June 2 that showcases repurposed neon signs from the past, so these bits of our history can shine in a sustainable future.
Lights On! will be hosted by the Fringe Club. Housed in an 1890s colonial heritage landmark, the Fringe Club has nurtured emerging artists for over 40 years. In 2018, it received the HKICON Conservation Award, a recognition for the historic building's rebirth as a vibrant arts hub.
Lights On! offers a retail experience featuring select fashion and lifestyle merchandise that draw on the past to open up a new, more sustainable consumer market. Many featured brands are inspired by once popular everyday products, or repurposed through thoughtful design. Featured brands include V VISSI, Locoweed, Invisibilis Moveré, Arty: Active, BIG HORN, Maison Blanche、LE FONDRE、Blind by JW. Artists including Saville Chan from"A Light Never Goes Out", Vincent Au Yeung, KC Wong (RidiculouSneakers), Tony Tam (Delta Blues Audio), Masahito Hiranuma, World Harp Day, etc. Traditional Hong Kong brands reworked from the REMIX program is also on spot paying tribute to our shared heritage. Their timeless, vintage looks are never out of style. Thanks to eco-friendly choice of materials and production process, they shine the brightest amid current environmental challenges like our repurposed neon signs.
Isetta BMW will be exhibited at Lights On!. The compact and clever design was born out of necessity in post-World War II Europe where materials and fuel were equally scarce. The car was manufactured under a license from BMW. Today, as we all aim to consume less resources, the Isetta BMW represents one of the early prototypes of a more sustainable vehicle.
Opening Reception: May 26, 2023, 5 - 8pm
Event Dates and Time: May 26 ‒ Jun 4, 2023 | 11am - 9pm